Free printable Halloween bucket list. 50+ awesome ideas bucket list ideas: great for kids. Pre-filled & blank printable Halloween bucket list.
I love Halloween. It might beat out Christmas for my favorite holiday. Haunted houses. Creepy movies. Spooky stories. All that black. Not to mention candy. And pumpkins.
Now that I have a baby, I'm determined that we're going to do something special every year. So I started making bucket lists for each season and holiday. (I'm working a year ahead…he's too little right now to do much). And I decided you might like the list! I talked to some fellow bloggers and put together some ideas & recipes for you.
There is a free printable Halloween bucket list towards the end of the post. It includes many of the ideas below. There is also a blank one for you to write your own ideas. (That's the one I'll be using!)
If you like bucket lists, you might like the Free Printable Summer Bucket List & Free Printable Fall Bucket List.
If you're looking for more Halloween content, check out the page dedicated to Halloween & Pumpkin. There are free printables and spooky foods.
---
---
~~~~~This post contains some affiliate links for your convenience (which means if you make a purchase after clicking a link I will earn a small commission which helps keep my blog up and running but it won't cost you a penny more)! Click here to read my full disclosure policy.~~~~~
---
Outdoors Adventures
Let's start with what I find the most fun- outdoor Halloween bucket list ideas!
• Visit the local pumpkin patch & pick out a pumpkin.
• Go to a corn maze. Bonus points if you can find a spooky one.
• Take a hay ride
• Attend a fall festival
• Visit a haunted house
• Participate in Halloween costume contest
• Participate in a costume parade. Bonus points if it's a PET costume parade. (I went to a pet parade for St. Patrick's Day…it was great.)
• Go truck or treating
• Go trick or treating
• Take an evening walk and look at everyone's décor & pumpkins
• "Boo" treat your neighbors! This "You've Been Booed" post includes free printables for you.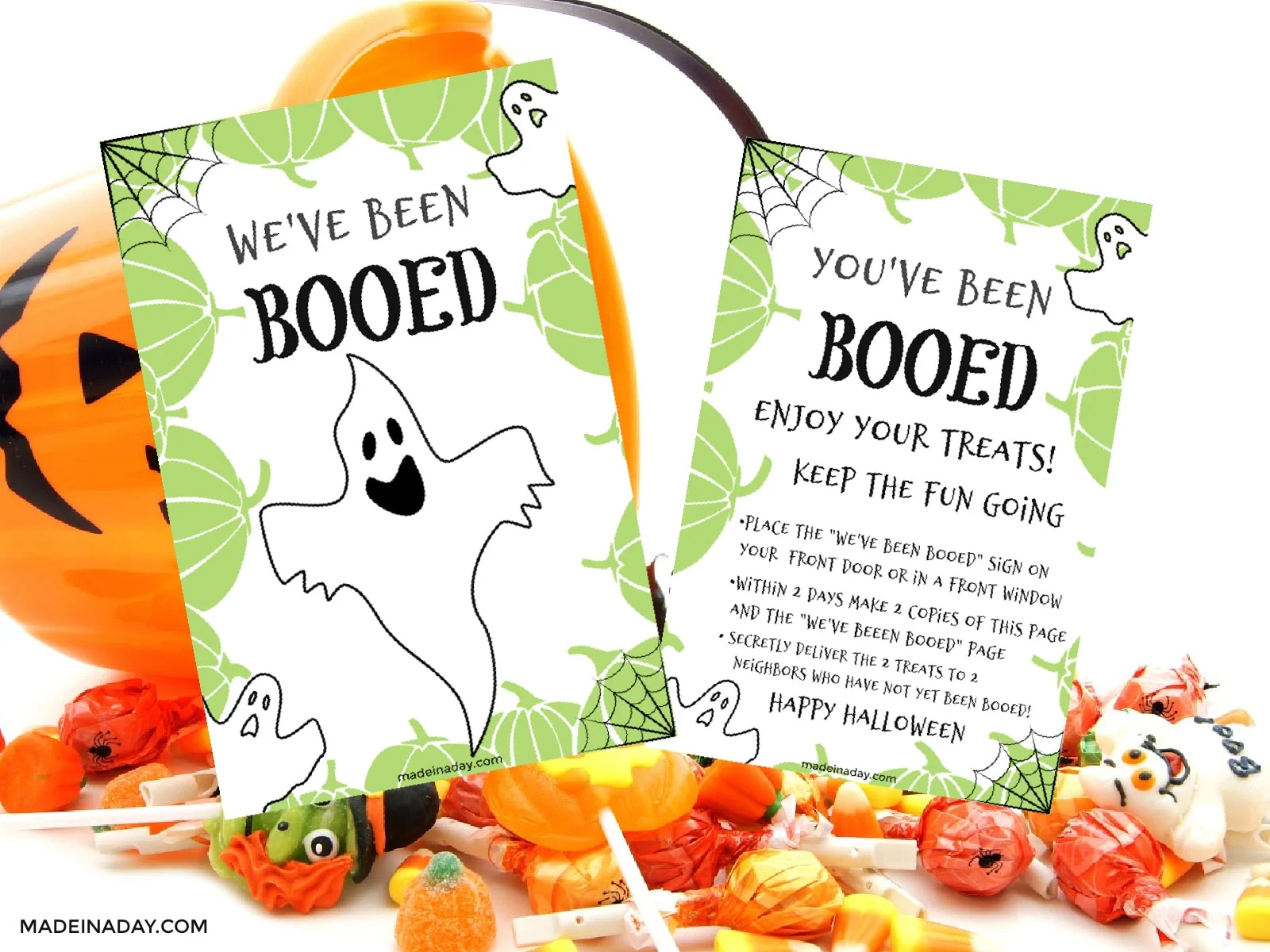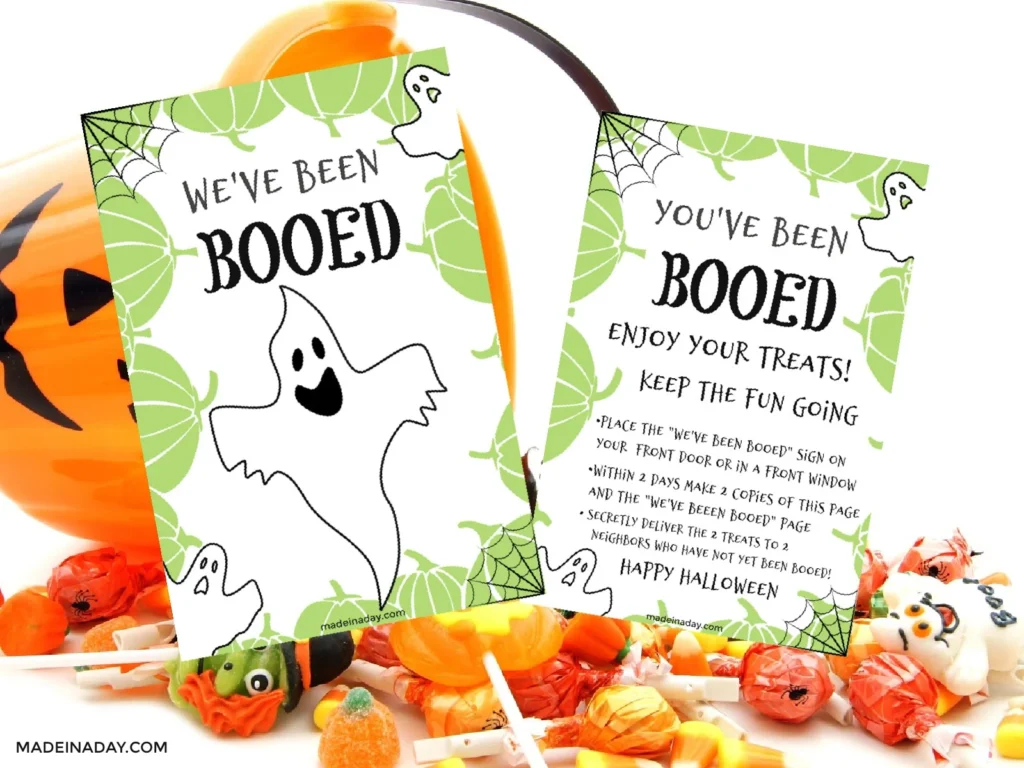 ---
At-Home Activities
• Read a Halloween book. Try Clifford's Halloween, The Spooky Wheels on the Bus, or Hocus Pocus: The Illustrated Novelization.
• Throw a Halloween party. Or have a costume dinner. If you're looking for party games, one idea is "Ghost Pong Minute to Win It." Another is "Roll The Dice Candy Game."
• Look up the history of Halloween
• Tell a spooky story. Even better if it's true.
• Plan/buy your Halloween costume. You can also do a DIY Halloween costume. Another idea is to dress up the whole family with a single theme in mind.
• Dress up your pet for Halloween
• After your done dressing up yourself & your pet, decorate the house for Halloween. Some decor I love: Happy Halloween Burlap Banner, Skeleton Crawling Out of Ground (outdoor), and (of course) Fake Cobwebs.
• Watch a Halloween movie. My absolute favorite is The Nightmare Before Christmas.
If you're looking to watch with younger kids, check out 10 Best Non-Scary Halloween Movies, 25 Halloween Movies for Kids to Watch This October, and/or Must-See Non-Scary Halloween Movies for Kids.
• Halloween coloring. You can try My First Big Book of Halloween Coloring, Trick or Treat Happy Halloween Coloring Book, or the free pages below.
5 Free Printable Halloween Coloring Pages
---
• Put together a Halloween puzzle
• Have a scavenger hunt (there are a ton of options below!)
---
• If you want to put in a little more effort, have a Halloween Treasure Hunt.
Free Printable Halloween Treasure Hunt: 24 mix-and-match clues plus blanks
---
• Ask Halloween trivia questions. Make a game of it by seeing who can get the most right.
---
• Play Halloween Bingo
---
• Halloween worksheets, activities, and other games
---
• Carve (or paint) a pumpkin. Make sure to grab a pumpkin carving kit to make it easier. You can also get Pumpkin Carving Stencils to make it easier.
Women's Day has 59 Cute & Easy Pumpkin Carving Ideas if you're looking for inspiration. Or- even better (as it involves books!)- check out 27 Book Character Pumpkins (painted pumpkins). In this post, a library had a contest and you should see some of the fabulous pumpkins that got created.
---
• Run a Halloween science experiment.
---
Crafts
• Make a scarecrow
• Make Halloween masks
• Make play dough. Or moon dough, a version of it.
---
• Make slime
---
• Use paper plates and make a Halloween figure/character.
---
• Craft up some Halloween characters. Ideas include tin can Frankenstein, footprint ghosts, toilet paper tube bats, Q-tip skeletons, milk jug ghosts, & the ideas below.
---
Food Fun- Halloween "Characters"
I had a ton of people suggest various food activities that made characters, such as ghosts, zombies, spiders, and more. Since I figure you won't have time for them all, I decided to group them together. Then you can pick your favorites.
This first one involves some serious effort, including making cakesicles from scratch. But Halloween Cakesickles allow you to make a variety of characters at the same time.
---
Mummies
---
Ghosts
---
Bats
---
Spiders
---
Jack-O-Latern/Pumpkins
---
Vampire
---
Frankenstein
---
Witch
---
Monsters
---
Food Fun
There were also some recipes that weren't really "characters," but still fit Halloween. I've included them below.
Sweet Treats
---
Dinner & Snacks
---
Pumpkin
I have a whole section of Pumpkin food in my "Fall Bucket List" post…and I'm not going to repeat them all here. Please visit that post if you want a TON of pumpkin food options. But here are two of mine that I love.
---
Free Printable Halloween Bucket List
Instructions:
• Print options: regular paper works just fine, but you can use card stock if you want a sturdier version.
• All of the files are in pdf below. Just hit the "download" button (or pink word "download," depending upon browser).
• The default size of these is full-page. However, if you want smaller, simply reduce the print size! If you're not sure on how much to reduce, check out my post "How to Resize Printables to Fit Your Planner."
---
Blank Halloween Bucket List Printable
---
Do You Have Any Ideas to Add?
I would love to add to this list. If you have any ideas, please comment letting me know. As you can tell, I've included plenty of links. So, yes, if you're a blogger, I would like to hear from you too.
Could you do me a quick favor? If you enjoyed this free printable Halloween bucket list, could you share it with your friends? Share buttons are at the top!
---