Food Tracking, Motivation, Exercise, Etc.
Health (at least for me) starts with motivation. When I'm tired…I need motivation. When I want to overeat, I need a little motivation. Food tracking and regular exercise are also vital to health.
Below are FREE printables dedicated to those things. There's quite a bit of content on this page, organized as follows:
• Resolution & habit trackers
• Motivational Posters
• Food Journals
• 30-day exercise challenge
This page is constantly growing, so check back often for new content!
-Note that all of the files are in pdf below. Or click on the image. It will open in a new window and you can either print directly or save to computer.
This post contains some affiliate links for your convenience (which means if you make a purchase after clicking a link I will earn a small commission which helps keep my blog up and running but it won't cost you a penny more)! Click here to read my full disclosure policy.
If you love organizing as much as me, you might be interested in the following:
Binders- I use these binders for everything! My cookbook is in one. My schedule for my blog planner is in another. Check them out here: 2″ Staples Better Binders.
3-hole punch– I've had some flimsy ones in the past that were a pain. This one is great. It's sturdy, slide works perfectly, and you can punch a ton of sheets at the same time. Swingline 40-Sheet 3-Hole Punch.
Paper cutter– I cut a lot of paper. I trim some for the binder, I make favor tags and free gift certificates for the holidays, etc. Swingline Paper Cutter.
Food Journals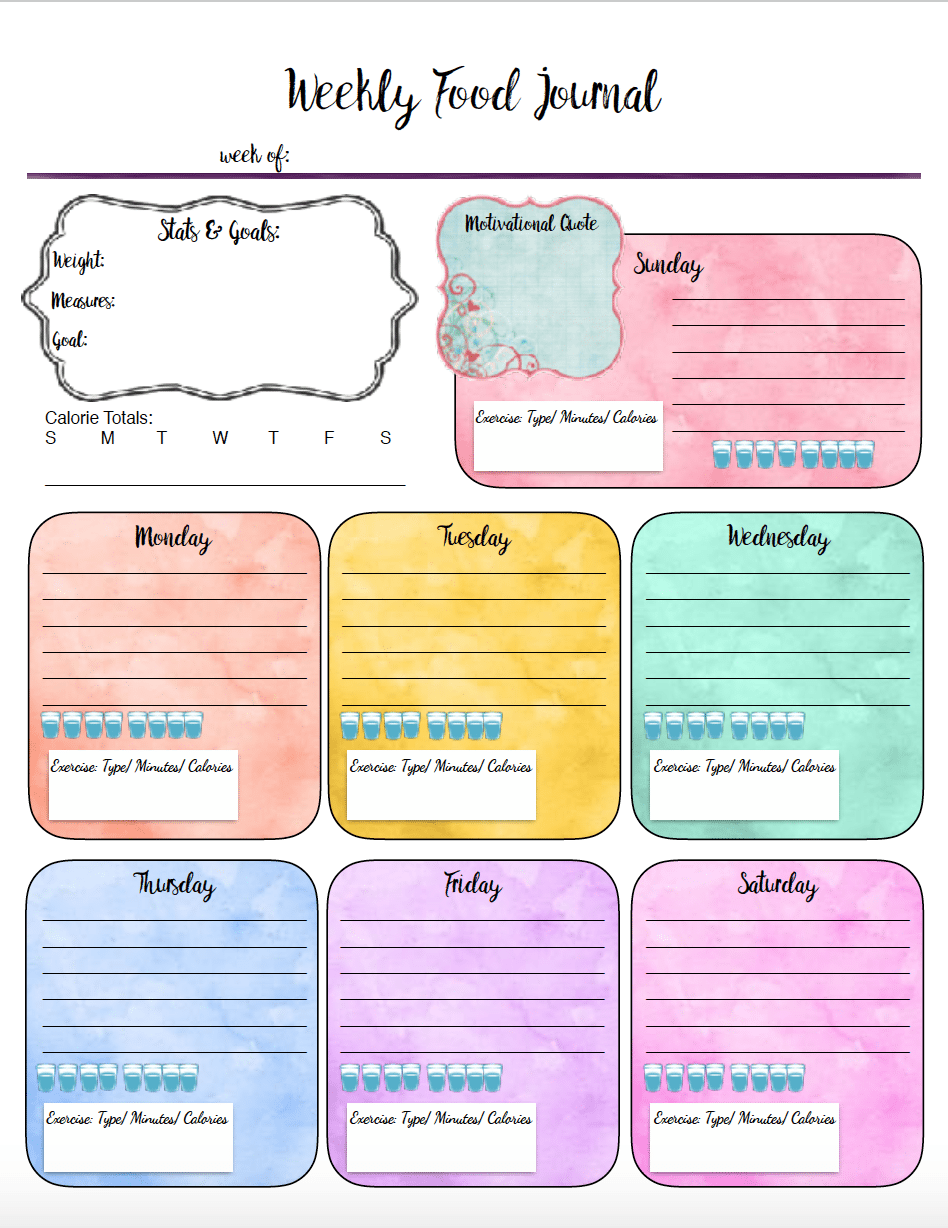 If you're looking for colorful & cute, this is the one for you. In addition to food tracking, there is water on each day, a spot of exercise, a place to write down weekly stats, and a spot for a motivational quote.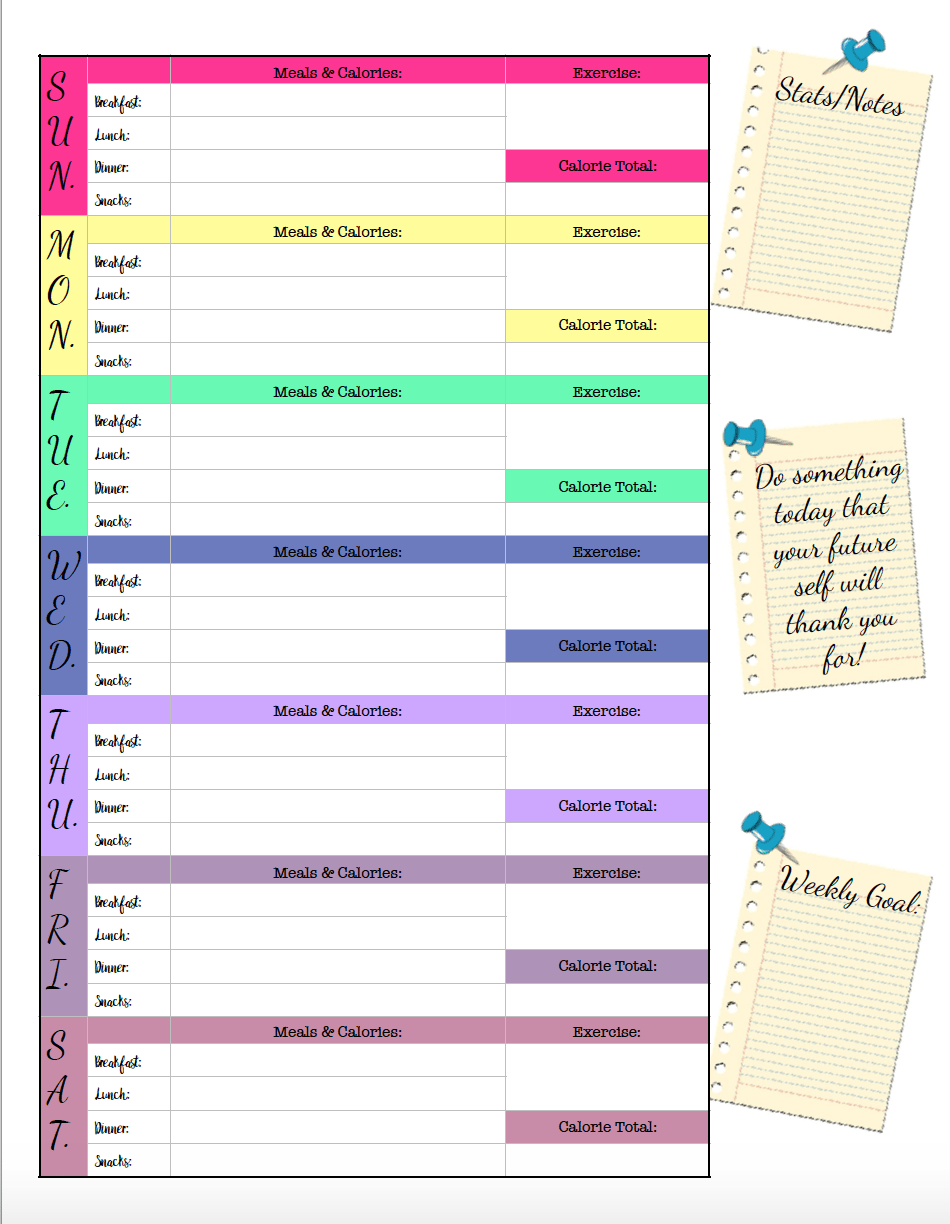 This is a little more organized. There are spots for each meals plus snacks. A small area to track exercise, and room for daily calorie total. The side area includes a stats area and a spot to write your weekly goal.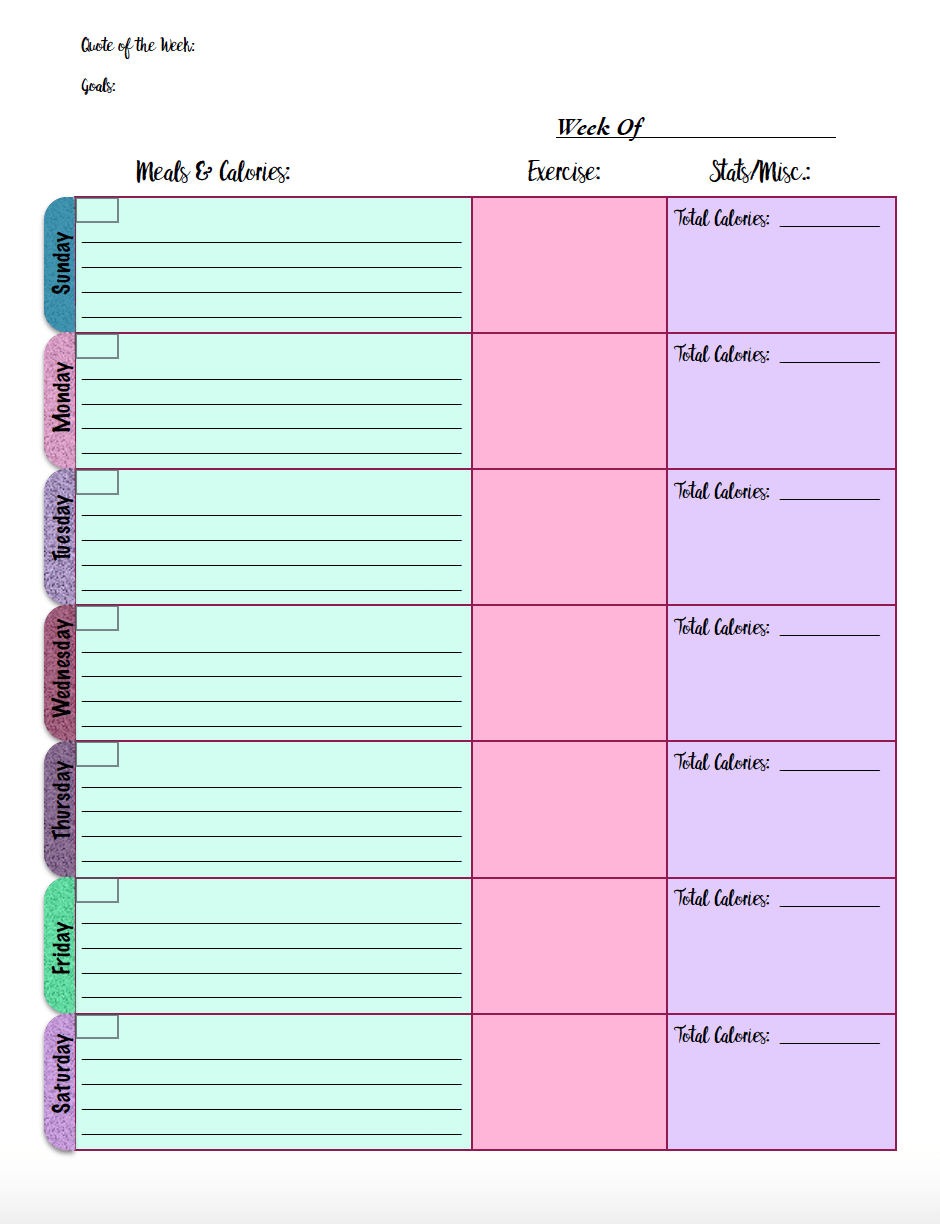 The area for tracking calories is a bit smaller, but there is extra room for tracking exercise. There is also a decent size stats/misc. area in case you're making additional notes. I often note weight, measurements, or specific food goals (such as veggie servings or whole grains) in the last column. There is space at the top for making a weekly goal as well as writing a motivational quote.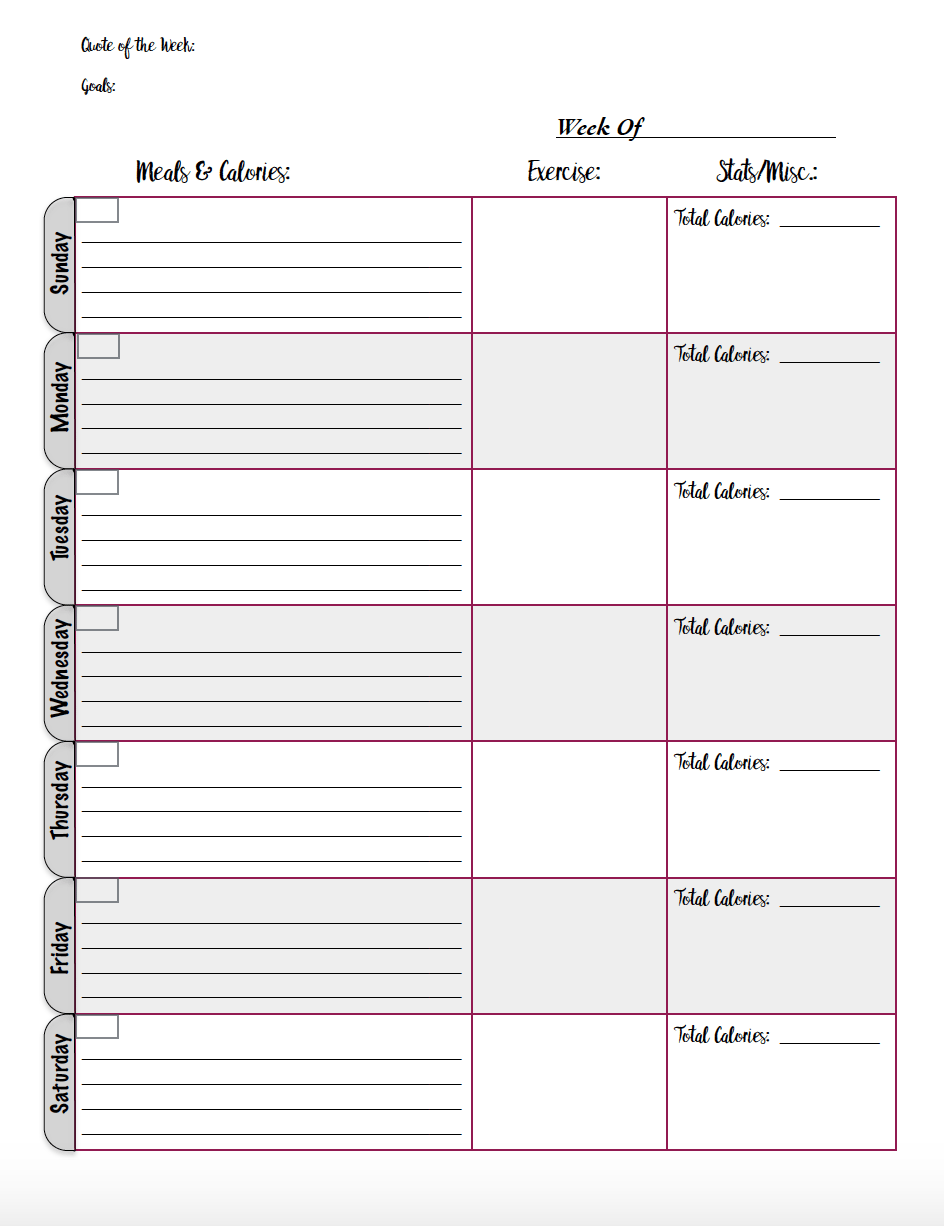 The same as the journal next to this, except in mostly black and white. If you only have a black/white printer, this journal will work. The pink heavy line will simply print as a heavier black.
This journal is actually 4 pages long, don't get confused by the two images above. The first image (it has two day's worth of tracking) has extended room for tracking meals and snacks. If you're being very specific, this is a good journal. It also has more room for writing. There is also room to track food, water, and exercise. The second image is the end of week. It includes the day 7 food journal as well as a summary section. I really, really like this aspect of the journal. You can glance at week start and end, what you did well, and what you want to work on next week.
All four pages are included in this pdf: Food Journal5_pdf
(If you're printing from the images, print the first image 3 times, the last image once)
This is an older design, but I still kind of like it. So I decided to keep it.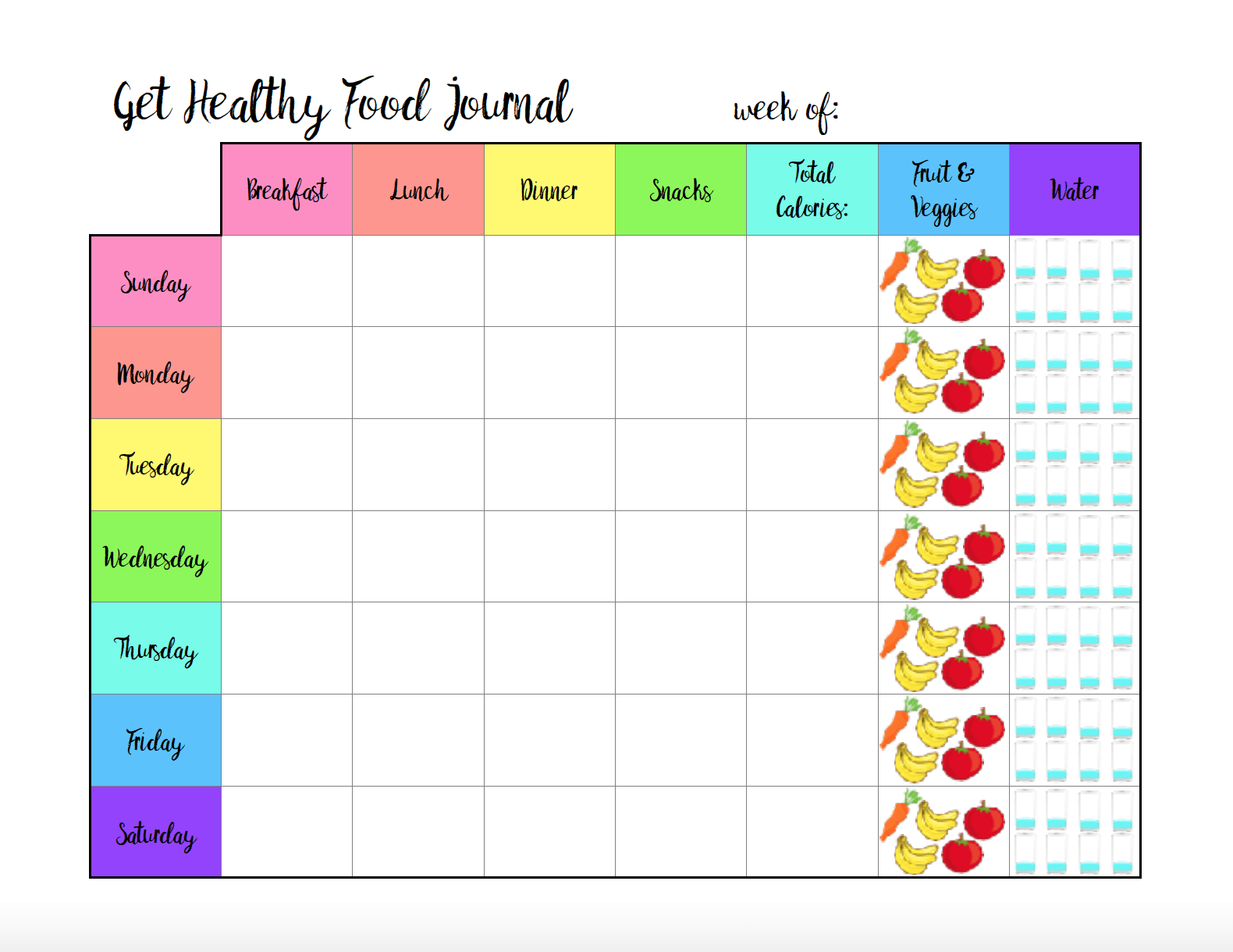 This food journal is horizontal. Along with normal food tracking, there are 5 fruits/veggies to cross out each day along with 8 glasses of water! Very easy to keep track this way.
30-Day Exercise Challenge
Free Printable 2018 Planner
35-page planner includes goal-setting worksheets, weekly planners, daily planners, calendars, menu/grocery, & more!