Halloween is my favorite holiday. It ranks higher than Christmas in my world. I also love food (as you might guess from the website! haha). I love Halloween parties too. But at a party, it gets tiring telling people again and again exactly what each food item is. That's where these cute free printable Halloween labels come in.
I have 3 different sizes: 2″ by 1″ ; 3″ by 1 & 1/2″ ; and 3″ by 2″. There are multiple designs for each one.
Instructions:
• Print options: regular paper works, but I suggest card stock for a sturdier label. You can also use glossy photo paper, but be careful that any writing doesn't smear.
• All of the files are in pdf below. Or click on the image. It will open in a new window and you can either print directly or save to computer.
• The default size of these labels varies. However, if you want smaller or larger labels, simply increase or decrease the print size.
What is your favorite holiday? And what Halloween printable would you like to see? I'm always making new designs! Comment below. 
Check out the "Halloween Printables" page for more free printables for the spookiest holiday of the year.
A few examples of where I've used these labels...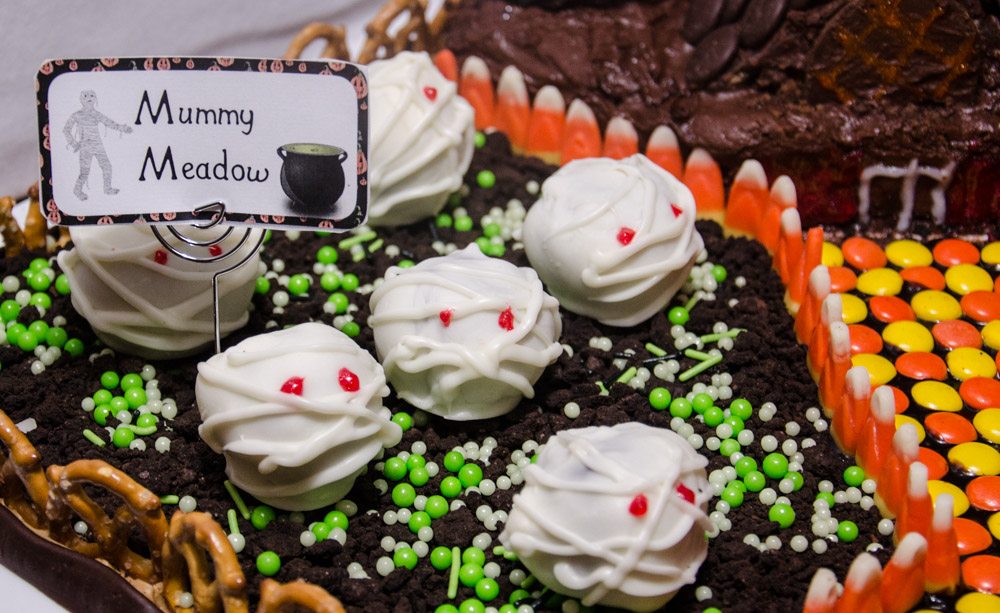 See "Halloween Mummies" (strawberry cake bites with white chocolate cream cheese) for recipe and instructions.
These are 2″ by 1″ labels. These are fairly small, and I don't use them a lot. But they're cute and food for labeling small dishes or crowded sections.
These are 3″ by 1 & 1/2″ labels. These are the ones I used on my edible Halloween landscape above.
These are 3″ by 2″ labels. These have the most room for writing in case you want to write descriptions of the dish. There are 9 different designs!
Free Printable 2018 Planner
35-page planner includes goal-setting worksheets, weekly planners, daily planners, calendars, menu/grocery, & more!