I have one of the most delicious desserts in the world. Layered Red Velvet and White Chocolate Cheesecake. Also running around under the name of Red Velvet Cheesecake. And, yes, this is based on the delicious dessert by The Cheesecake Factory. While I haven't gotten their recipe exactly (I can't seem to shred white chocolate…though God have I tried), it's pretty darn close. And much cheaper.
This recipe has everything:
Red velvet cake (very moist).
White chocolate cheesecake.
White chocolate cream cheese frosting.
Do I need to say anymore? I can't even find the words to explain how delicious this is.
This is a LONG post. Sorry, but I included all the little tips that make it turn out perfectly. The entire recipe is 2 pages typed up. Yep. It's in printable pdf at the very bottom, though, for your convenience.
This is 75% developed by myself. One of the red velvet recipes (yes, 1 of them) is from another site. I've included the link below. The rest is a combination of common cheesecake recipes, but I've added my own modifications. The same with the frosting.
Good news: It's even more delicious than it looks…it takes a bit of effort to make.
Bad news: It's ideally an overnight dessert (the cheesecake tastes better if it freezes overnight). Sorry. But trust me: it is SO worth it.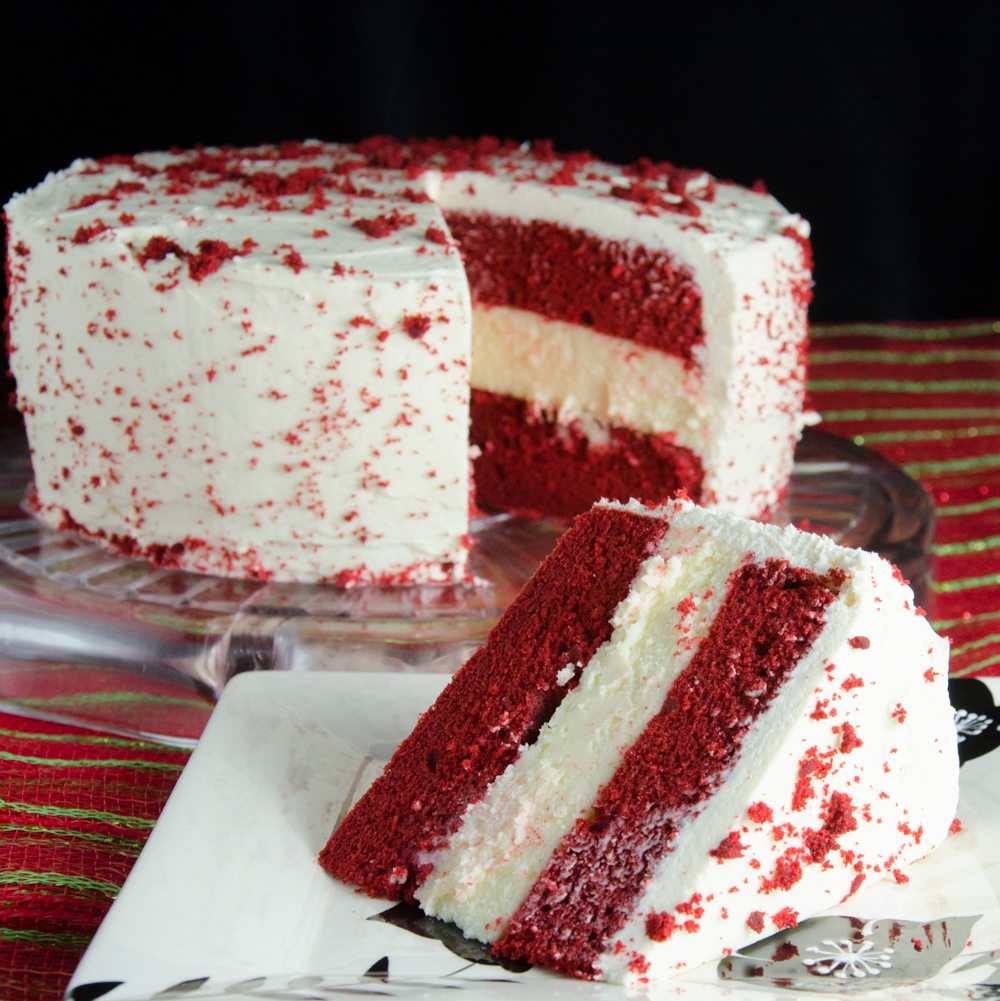 This post contains some affiliate links for your convenience (which means if you make a purchase after clicking a link I will earn a small commission which helps keep my blog up and running but it won't cost you a penny more)! Click here to read my full disclosure policy.
If you don't have a KitchenAid stand mixer, get one. Seriously. It is my number one kitchen product. I would trade any number of other items for this one single thing.
I also included the cheesecake pan I use (the exact one)…it's great. Along with the 9″ pans I use and parchment paper. In case you weren't familiar with parchment paper, just click to see what it looks like.
White Chocolate Cheesecake:
For the cheesecake, you'll need:
Two (8-ounce) packages cream cheese, room temperature
6 oz. white chocolate
2/3 cup granulated white sugar
pinch of salt
2 large eggs, room temperature
1/3 cup sour cream
1/3 cup heavy whipping cream
1 teaspoon vanilla extract
Cheesecake is an interesting challenge. But if you don't mind an extremely long post, I'm going to share the details of how I make it and how it turns out correctly. There are also quite a few pictures.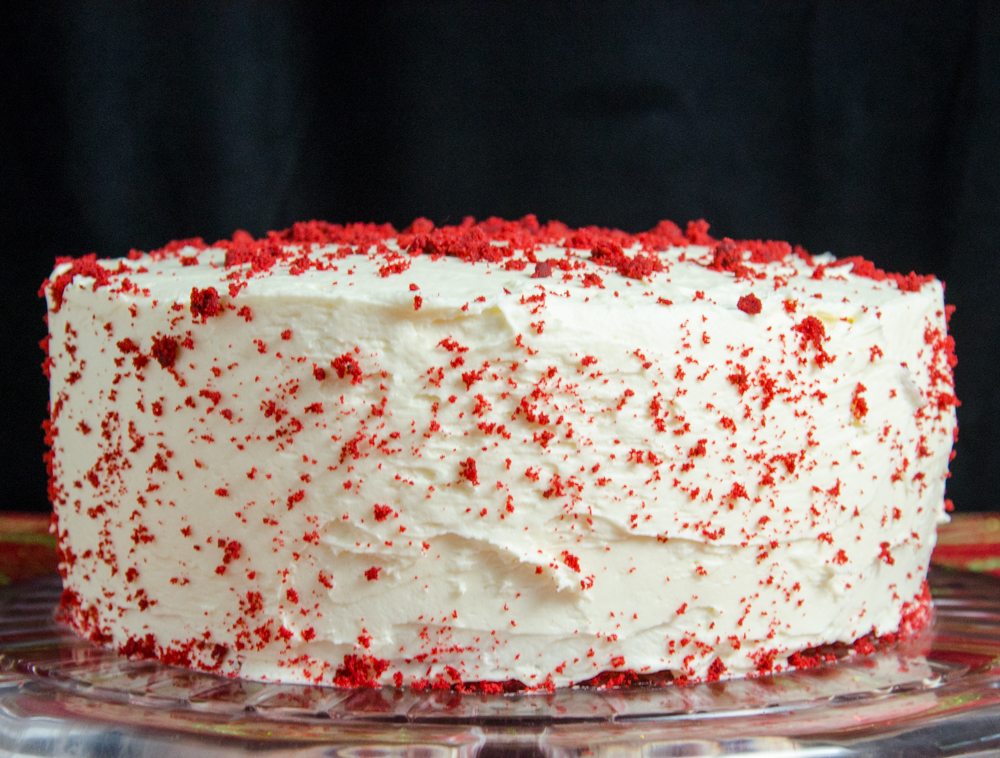 Red Velvet Cake:
The red velvet cake is next. There are actually two ways to do this.
1) You can use the boxed cake method with my adjustments. Pros: Easier! Cons: Not as moist.
2) You can make from scratch. Pros: Moist, delicious. Great, deep color. Cons: Takes a lot more effort.
I've included them both (in the printable PDF) so you can make your own decision.
The "from scratch" recipe is from: StuckAtHomeMom.
Please, please visit her site! It's great. And I didn't have to make a single adjustment to this cake. It was perfect as is. Though I did wince pouring in a cup and a half of oil. (The blood red pics are from the boxed cake mix; the deeper one is the "from scratch.")
Also note the bread on the top of the finished cake. I usually make the cheesecake, cool it, and put it in freezer. Also on the first day I make the red velvet cake. If you leave it out with a piece of bread on top overnight, it will be just as moist in the morning. I swear. I looked up the science before I tried it because I didn't believe it!
Then on day two, I assemble and frost.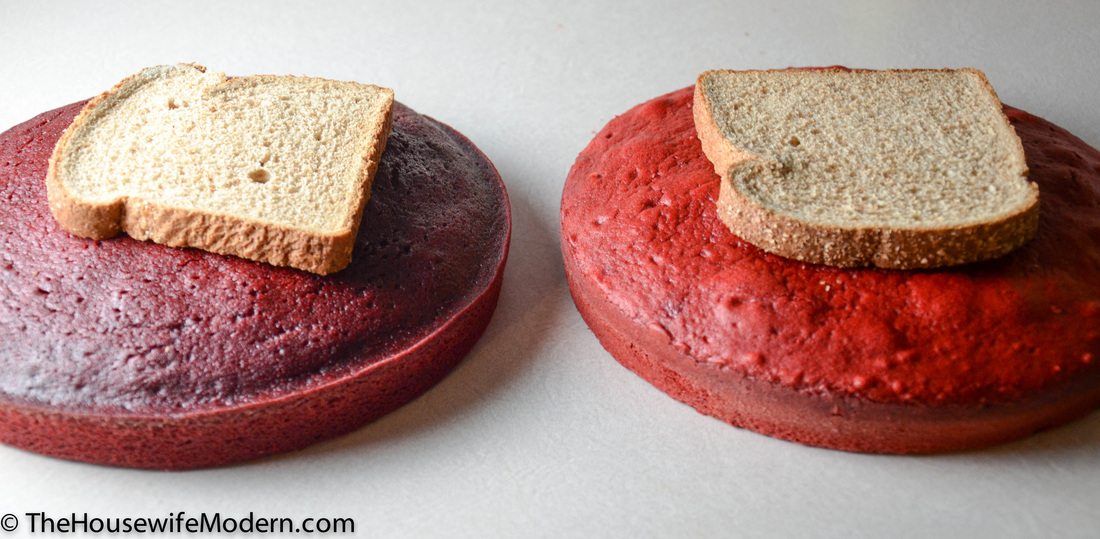 White Chocolate Cream Cheese Frosting:
For step-by-step pics (though it's not complicated), please visit "White Chocolate Cream Cheese Frosting."
2 1/2 cups powdered sugar, sifted lightly to remove any lumps
Two (8-ounce) packages cream cheese, at room temperature
1/2 cup unsalted butter, at room temperature
1 tablespoon vanilla extract
12 oz. baker's white chocolate
Prepare the frosting:
Set out cream cheese and butter and allow it to warm to room temperature.
Sift the powdered sugar.
Cream together room temperature cream cheese and butter. Scrape down bowl and make 
sure there are absolutely no lumps.
Melt chocolate in microwave- 30 seconds at 50% power. Stir well. Microwave in additional 
15 second increments, stirring every time, until melted. Do NOT overheat. Allow to cool 
slightly.
Add melted chocolate and vanilla to cream cheese and butter. Mix well.
Add sugar gradually, beating well, until light and fluffy after each addition.
Add sugar to 
desired sweetness; may not use all of the sugar.
Final prep:
Full assembly and final prep details are in printable PDF below. It's not hard. Just remember to use the crumb coat!
Recipe is below as a PDF. Just click and it should open in a new window. Yes, it is 2 pages long. No way to make a single page unless I use font size 4!
Free Printable 2018 Planner
35-page planner includes goal-setting worksheets, weekly planners, daily planners, calendars, menu/grocery, & more!