Copycat Pizza Hut Cavatini Supreme. Delicious, easy.
Pepperonis, Italian sausage, 2 types of cheese, sauce simmered with blend of spices, and touch of veggies.
Pizza Hut Cavatini was a favorite of mine growing up. I grew to like it more than the pizza! So I was amazed to discover that when I say 'cavatini' to the average person, the response I invariably get is 'huh?' I had NO IDEA that it was only a few Pizza Huts in the midwest that served this dish.
Why isn't this a standard dish at every Pizza Hut?
I love making this dish for our household. Not only does it taste delicious, it makes a very large dish full. For a family of four, it's two nights dinner. (and yes, it re-heats very well). And it's easy. Very easy.
Side note: When my husband takes it into work for lunch, people call it "goulash"? What in the world is goulash? It sounds like a Russian prison camp. And why would you insult my beloved Pizza Hut cavatini recipe by calling it that?
Well, if you haven't had cavatini before, you are in for a treat. If you have had Pizza Hut cavatini before, I actually think mine is a slight improvement on the original. But I'm probably biased.
One last note: buy extra pepperoni. Feel free to eat liberally while prepping the dish. It makes the entire experience better.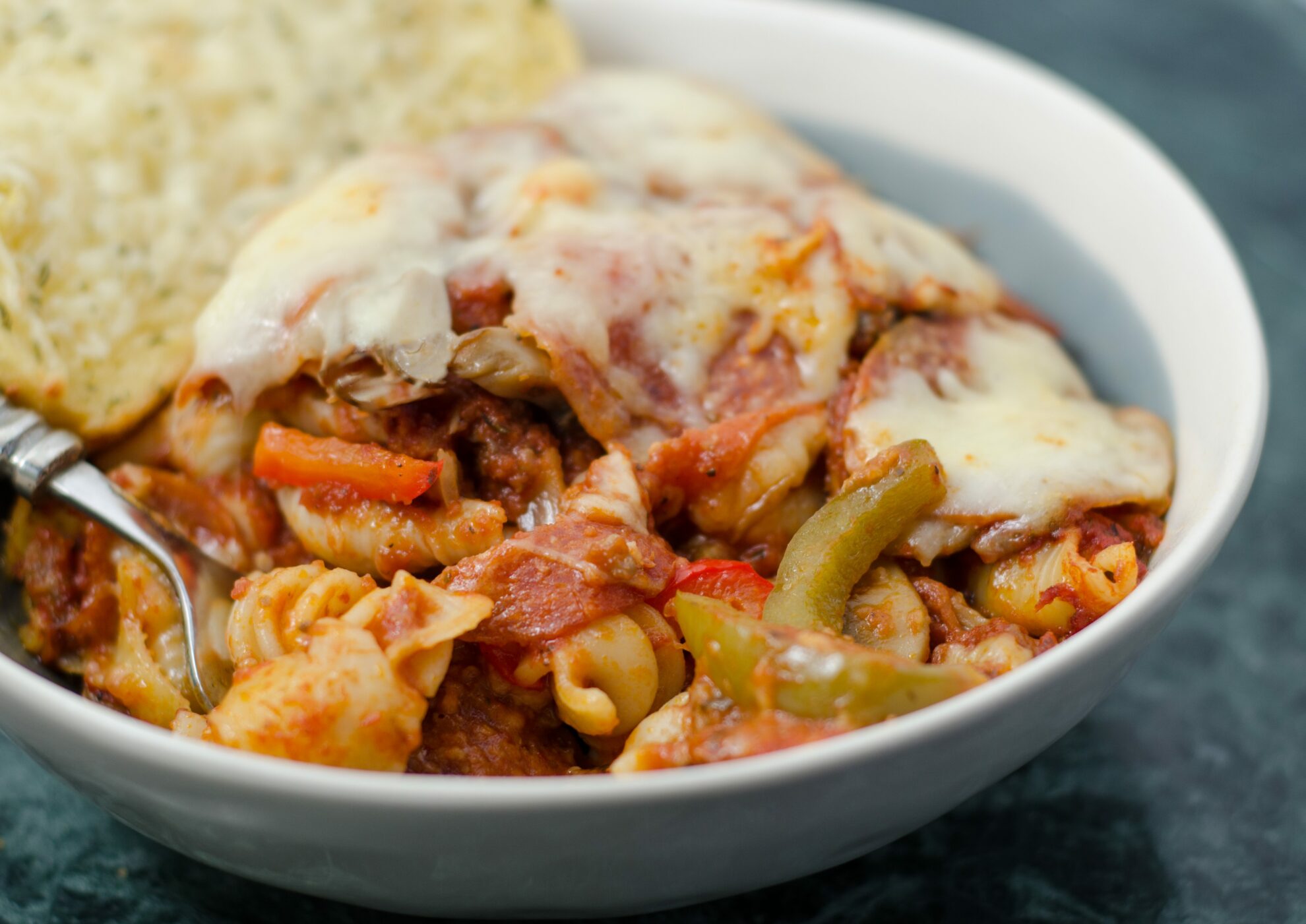 Pizza Hut Cavatini
Ingredients
1

lb

Italian sausage, hot

1

cup

green pepper

thinly sliced, approximately 2" long

1

cup

red pepper

thinly sliced, approximately 2" long

3/4

cup

onion

chopped

6

oz.

mushrooms

chopped

4

oz

spiral noodles

4

oz

shell noodles

4

oz

wheel noodles

1 & 1/2

tsp.

Italian seasoning

1/4

tsp.

oregano

1/8

tsp.

garlic powder

1

pinch

red pepper flakes

1/8

tsp.

ground black pepper

1/2

tsp.

salt

48

oz.

spaghetti sauce

Prego is best

8

oz.

pepperoni slices

5

oz.

Parmesan cheese

shredded

8

oz

mozzarella cheese

shredded
Instructions
Mise en place. Brown ground Italian sausage until 90% cooked. Drain. Press out excess grease with a paper towel if desired.

Add peppers, onions, and mushrooms and cook for another 2 minutes, stirring often. Add sauce and spices. Bring to a slight boil. Remove from heat. Set aside.

Cook pastas according to package directions. Rinse in cool water. Drain. Set aside.

Spray a 9" x 13" casserole dish (glass is best with this recipe) with non-stick spray. Layer 1/3 of the pasta, spoon on 1/3 of sauce. Top with 1/3 of the pepperoni and then 1/3 of the cheese.

Repeat layers: pasta, sauce, pepperoni, cheese.

Bake at 350° for 45 minutes or until mixture is bubbly and cheese is melted. Check after 30 minutes and cover if browning too quickly.