First of all, the score is: Reddit- 1;  Pinterest-0. If Pinterest could go negative, they would on this one. Sorry. I love Pinterest, don't get me wrong.
But I got probably 10 different cornbread recipes from Pinterest. Tested them all. I had a dozen people taste-test the last three to determine the best. So I made it my official cornbread recipe, took pictures, and posted it like crazy. Including on reddit. Where I got a lot of upvotes…and some, uh, constructive criticism. Reddit requires a thick skin. But it was good advice.
So I took it. I changed the recipe to include a cast iron skillet. Pre-heated it in the oven. I used butter (not bacon fat…sorry guys) for greasing it. I upped the cornmeal ratio radically. And I ended up with the most freaking delicious cornbread I've ever had in my life. Excuse the language….but it was that good. My husband ate the first bite, looked at me, and goes "where did you get this recipe!?" It was better than anything I've ever eaten in a restaurant…and I lived in the South.
My answer: I didn't get a recipe. I took reddit advice and adjusted one.
As always, printable recipe at the bottom. 
–if you don't have a cast iron skillet, I have instructions below for that.
Thank you reddit! Now, can you help me with my shrimp fried rice? I've got the shrimp sauce perfect…but the shrimp fried rice itself needs a little work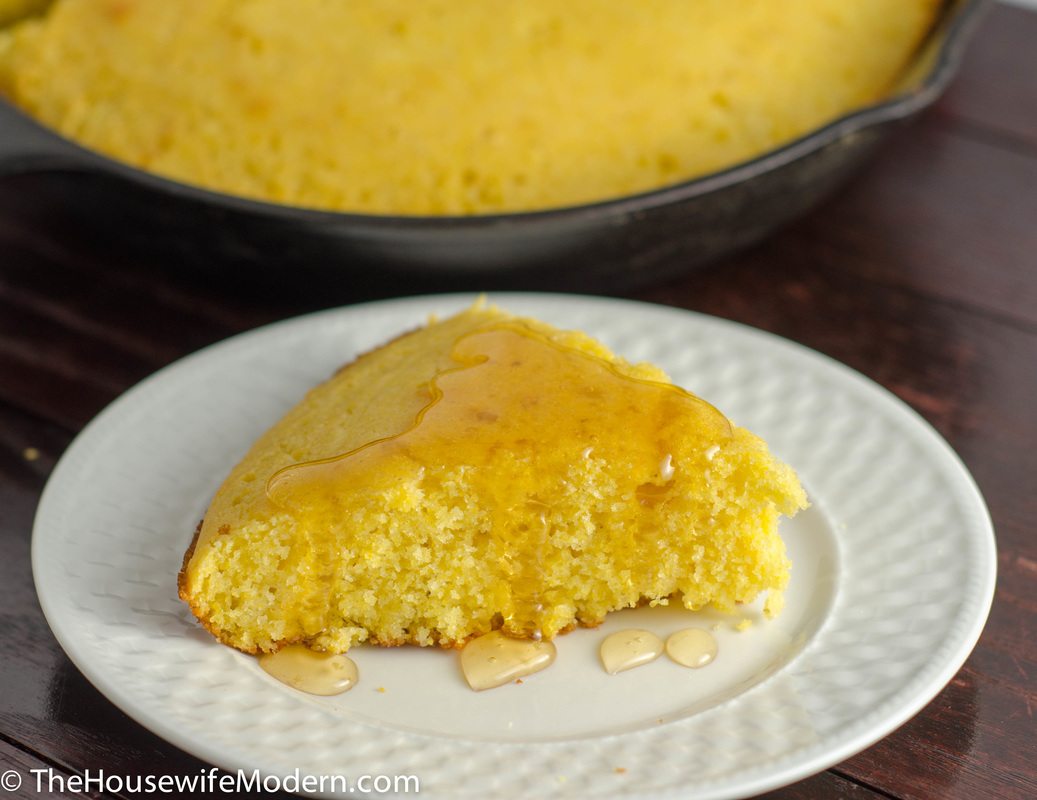 Despite needing three bowls, this recipe is easy to make. (After all, how hard can cornbread be?). And it's fast.
Ingredients
2/3 C. butter
2 Tbsp. bacon fat (can use butter in place of bacon fat, if need be)
2/3 C. sugar
3 eggs
1 & 2/3 C. milk
1 & 1/4 C. flour
1 & 1/2 C. corn meal
4 tsp. baking powder
1 tsp. salt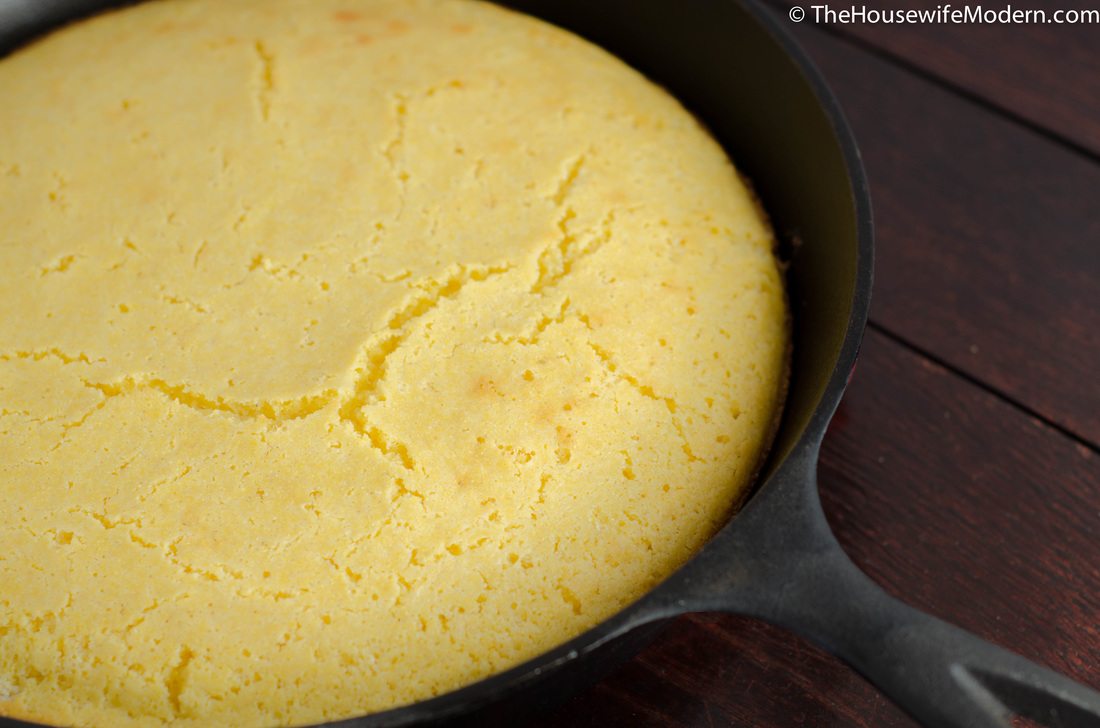 Old-fashioned, Cast Iron Skillet Cornbread
Ingredients
2/3

C

. butter plus 2 Tbsp.

divided

2/3

C

. sugar

3

eggs

1

C

& 2/3 . milk

1

C

& 1/4 . flour

1

C

& 1/2 . corn meal

4

tsp

. baking powder

1

tsp

. salt
Instructions
Mise en place. Preheat oven to 400°. Place cast iron skillet in oven to pre-heat.

Cream together 2/3 cup butter and sugar (if using stand mixer, do this in the mixer bowl).

In another bowl, beat together eggs and milk.

In a third bowl, combine flour, corn meal, baking powder, and salt.

Alternating, pour 1/4 of milk mixture, then 1/4 of flour mixture into butter/sugar mixture until everything is combined.

Remove hot cast iron skillet from oven. Drop in 2 Tbsp. butter (use bacon fat if you have it) and swirl around, rub up sides.

Pour in cornbread mixture.

Place in oven; bake approximately 20 minutes or until toothpick comes out clean.
Recipe Notes
If you don't have a cast iron skillet (sad face), grease a 9 x 13 pan (don't preheat it in oven), and bake 20-25 minutes or until toothpick comes out clean.
Free Printable 2018 Planner
35-page planner includes goal-setting worksheets, weekly planners, daily planners, calendars, menu/grocery, & more!